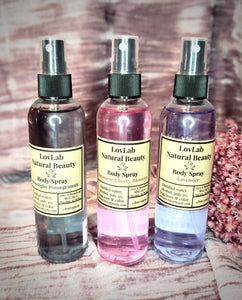 This delightful spray will give you a fresh, lightly scented start to your day, or use anytime for a little boost!
This happens at LovLab! Don't be surprised if people all of a sudden walk up and start sniffing you! Imagine the freshest all-natural ingredients paired with the most incredible smelling fragrances available today. Holy Cow! We blend all natural, organic oils with our soaps then add the purest fragrance or essential oils to it for a divine, rich lather, all in a stunning display of color and design. You won't find any toxins or harsh chemicals here! 4 Fluid oz. 
Ask us about custom orders, gift baskets and our other beauty products.
Allergy warning: For people with skin sensitivities or allergies, you should first test the product and discontinue use if irritation develops.